Latinos y Mobile at #SXSW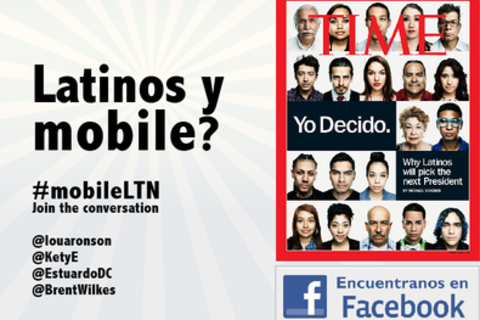 Next week, we are headed back to SXSW in Austin to explore one of our favorite topics: technology and innovation in the Latino community. Press release here. 
With fifty-two million Latinos living in the US today and an estimated 50 million Latino voters expected in 2040, this is a community that will have a major say in hat happens in 21st century America.
While a digital divide exists, the Latino population is making a huge impact on the ever-evolving communications landscape and the way brands and causes engage audiences online.
Our panel at SXSW is called "Latinos y Mobile: A Silver Bullet?"  in which we will explore the problems, opportunities and data surrounding Latinos and digital engagement. Panelists include Brent Wilkes from the League of United Latin American Citizens, Estuardo Rodriguez of The Raben Group, Kety Esquivel of Fenton Communications (her blog here) and our very own Lou Aronson, founder of Discourse Analytics. We'll also be sharing the results from the second annual Latino Voice survey, which gives Latinos a platform to express how technology has impacted them and their community. The survey is currently open for submission.
If you are going to SXSW next week check out our event on March 8th.  Details here. If you can't come, follow along the #mobileLTN hashtag on Twitter.