Swing State Series: Florida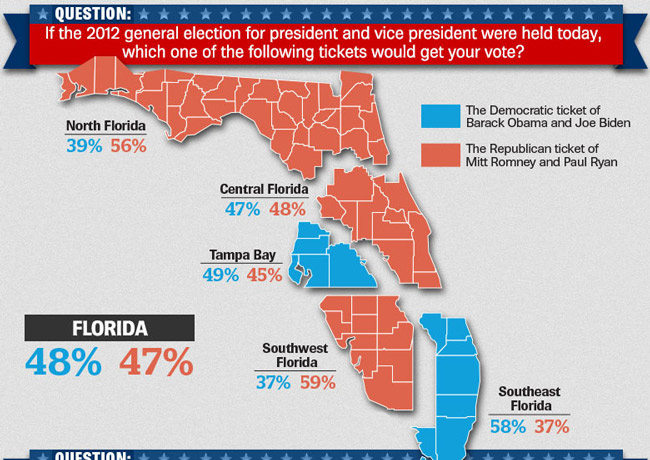 By Nick Davis
With one day left in the election season in what has seemed like an eternity, voters in Florida are getting their last helpings of Barack Obama and Mitt Romney. The Republican challenger is clinging to a one-point lead in the Sunshine State. Florida looks to be one of the absolutely critical states for both candidates due to its large amount of electoral votes, 29.
In the past Florida has gone back and forth between both parties. In 2008, Obama won the state taking 51% of the vote while in 2004, George W. Bush won by a margin of 5% over his Democratic opponent, John Kerry.  Before Barack Obama, the last Democrat to win Florida was Clinton in 1996. Florida picks winners and that's why each candidate isn't taking the state lightly.
It's likely that whoever wins Florida (and Ohio), will win the election, but don't take my word for it, just look at numbers. In the last week alone, each candidate along with their running mates hasmade a combined 12 appearances. On top of that, the Wesleyan Media Project reported that a combined $133 million has been spent on just television advertising, breaking a Florida record.  
Another interesting, but relatively unknown fact about Florida that may explain it's excellent presidential picks is Florida is the state where its demographics most closely resemble the nation's as a whole. The proportion of young, old, white, black, Latino, men, and women are on par with the rest of the country according to University of South Florida political scientist, Susan MacManus.
 Not only do the candidates know the importance of Florida, the people do as well and they aren't afraid to make a scene either. A recent Yahoo News article compiled letters from voters in Ohio and Florida, arguably the most important swing states, speaking to the political chaos and culture the state is embroiled in. One local university student attests to the overkill of political speeches, candidates, and media coverage surrounding his home. Another witnessed a band of older women shouting to anyone who would listen about the dangers of another Obama election win. There doesn't seem to be a shortage of hostilities from either side.
While it seems like many people have made up their minds on who they are voting for, there is small chunk of independent voters in Florida who have yet to decide on a candidate. A recent poll of independent voters conducted by the Miami Herald/El Nuevo Herald/Tampa Bay Times indicated an advantage for Romney by a margin of 6 points. However, a more intriguing trend emerged among an unscientific email poll. Many who replied indicated that they were voting for their candidate in spite of the other, meaning that Florida voters may be unsatisfied with either candidate.
Given where the other states stand, it seems that Florida may be more important to Mitt Romney this campaign season than it is for Obama.  Florida is the only swing state among the top electoral vote holders, and of those, New York and California are sure bets for the Democrats. Together they combine for 84 votes, almost a third of the necessary 270. Anything can happen in the next 24 hours as evidenced by Superstorm Sandy and the ensuing chaos. Florida is surely going down to the wire.